Chicago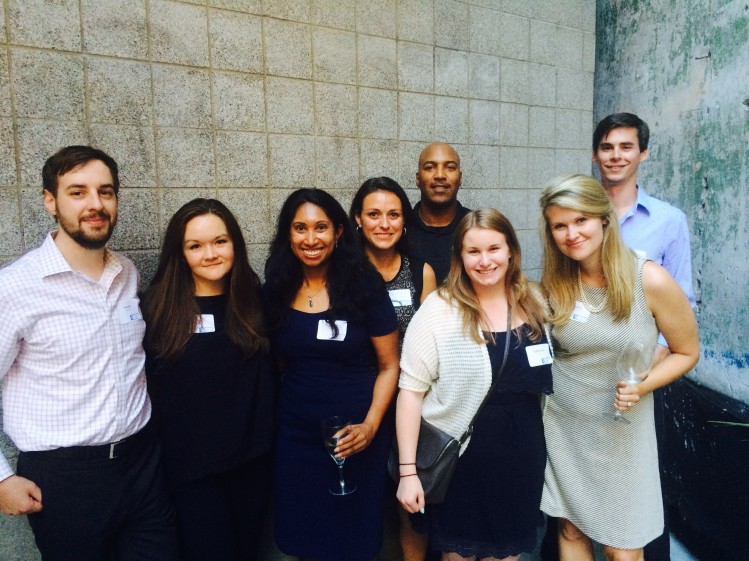 Leigh Batts
Assistant Director, Lawndale Christian Fitness Center
Leigh Batts is from Milwaukee, Wisconsin but currently resides in Chicago, Illinois. He is the Assistant Director at Lawndale Christian Fitness Center and Youth Director at Christus Victor Lutheran Church. Leigh also serves as a Chaplain in the United States Air Force. Leigh specializes in strategic management and organizational leadership.
Brad Bell
Real Estate Specialist, Crown Castle
Brad Bell is a Real Estate Specialist at Crown Castle, the nations largest shared wireless infrastructure company. Previously, Brad lived in Breckenridge, Colorado, where he worked as a snowboard instructor for children. Brad connected with SOS (Snowboard Outreach Society) engaging local at risk youth in building character by achieving goals on the mountain. This experience, and studying Social Entrepreneurship at Miami University makes Brad a great addition to the board.
George Coleman Jr.
Technology Development Director, IRI Worldwide
George Coleman Jr. is a Technology Director at IRI Worldwide, a leading market research firm based in Chicago. He has been involved with youth programs and urban education since 2010. His work with CBT has focused on managing the website redesign initiative. He received his B.A. in computing and M.S.in Information Systems from DePaul University, and an MBA from Purdue University's Krannert School of Management. George is looking forward to helping CBT develop greater collaborative tools setting the platform for program expansion.
Jena Dangerfield
Service Delivery Manager, Valence Health
Jena is a Service Delivery Manager at Valence Health. She received her B.S. in Exercise Physiology and MPH in Epidemiology & Biostatistics from West Virginia University. She has volunteered in several roles with multiple organizations and is excited to be joining CBT as a board member. Jena looks forward to contributing to the success of this organization.
Shilpa Gupta – Vice Chair
Assistant Vice President and Wealth Strategies Analyst, U.S. Trust
Shilpa Gupta is an Assistant Vice President and Wealth Strategies Analyst at U.S. Trust, Bank of America Private Wealth Management. She received her B.A. in Political Science from Boston University, her J.D. from The Ohio State University, Moritz College of Law, and her LL.M. in Taxation from Northwestern University School of Law. Shilpa has volunteered for various non-profit organizations in the past as a tutor, tax preparer, mentor, event planner and fundraiser, and she looks forward to helping further the mission of CBT as a board member.
Chelsie Kozera – Secretary
Product Marketing Manager, CareerBuilder
Chelsie Kozera is a Product Marketing Manager at CareerBuilder, LLC. CareerBuilder is widely recognized as a job board, but recently has grown into a SaaS (software as a service) company, enabling companies to remove the complexity from their recruitment process through insight-driven software and sourcing solutions. Chelsie helps develop go-to-market strategy for CareerBuilder's software products. A few years ago Chelsie lived and worked in South Korea as an ESL Teacher for children ages seven to seventeen. It was during her years in Korea that she fell in love with developing curriculum to help children grasp the English language easily. Chelsie brings a background of education, professional freelance writing, and marketing to CBT's Board of Directors.
Samantha Nyland
Nonprofit Sales Consultant, NeonCRM
Samantha is a native Michigander, and entered the nonprofit sector in 2007 working as a development intern at two local nonprofit organizations. After navigating the inner workings of a nonprofit, Samantha went on to become the Education Program Coordinator at Chicago House and Social Service Agency for 5 years; creating curriculum and facilitating year-round academic and life-skills support for formerly homeless families and youth. Currently, Samantha works as a Nonprofit Sales Consultant for NeonCRM, providing a robust software to support efficiency and data centralization to nonprofits across the United States. As a CBT Board Member, Samantha brings to the table a passion for social justice and youth empowerment, imagination, and a strong willingness to push the boundaries. If you don't find her planning her next endeavor, she's probably attempting a DIY project or at one of the many concert venues across the city.
Jonathan Palmer
Software Development Manager, Redbox Automated Retail
Jonathan Palmer has been a part of Redbox, the ubiquitous DVD rental kiosks located around the US and Canada, for the past 12 years. In 2002 he joined a small team from McDonald's to form what became Redbox DVD Rental Kiosks, a subsidiary of Outerwall. At Redbox, Jonathan held various leadership roles in operations and software development and has played a pivotal role in scaling Redbox from a handful of rental kiosks to over 40,000 kiosks and over $2 billion in annual revenue.
Joseph Ptasinski — Chair
Attorney, Nisen & Elliot, LLC
Joe Ptasinski joined CBT in 2007 as a Program Coordinator at CBT's Holstein Park site in Bucktown. Since becoming a board member in 2008, Joe has helped organize a number of CBT's community projects and events. Joe is also active in the Chicago area tutor-mentor community. Joe is a practicing attorney and lives in the Ravenswood area.
Ivanhoe D. Sison
Analytic Consulting Manager, Blue Health Intelligence (BHI)
Ivan has spent the majority of his career in Health Care Analytics and is currently an Analytic Consulting Manager at Blue Health Intelligence (BHI). Blue Health Intelligence (BHI) is a trade name of Health Intelligence Company, LLC, an independent licensee of the Blue Cross Blue Shield Association. He received a B.S. in Management from The College of New Jersey (TCNJ) and an MBA in Marketing and E-Commerce from Rutgers University. He has been involved in various non-profit organizations since 2008 serving as a cancer climber – Mount Kilimanjaro (American Cancer Society), charity runner – Chicago Marathon (American Institute of Cancer Research), food drive captain and volunteer (Greater Chicago Food Depository), serv-a-thon participant (Chicago Cares) and fundraiser for other non-profit organizations. Ivan is excited at the opportunity to serve on the board and to contribute to the future success of CBT.
Sara Solger — Student Board Member
Graduate Student, Loyola University-Chicago
Sara Solger is a graduate student in Loyola's School and Community Counseling Program. She received her bachelors in Education and Spanish from Loyola. Sara has taught at a number of schools in Chicago and has volunteered as a tutor, community organizer, and Special Olympics coach. During these experiences Sara developed a passion for empowering youth and promoting social justice. Sara is excited to help CBT to recruit new tutors and promote CBT's mission.